Drawing competition for Pupils in primary schools describing themes for #CHOGM2022 !! ,Inform your pupils about this Opportunity( Deadline : Friday13 May,2022 latest.)
🏘️ About
Rwanda's Ministry of Education today launched a countrywide drawing competition for pupils in primary schools describing themes for #CHOGM2022, creatively painting the values and objectives of the commonwealth. The best drawings will be displayed during the meeting.
📋 Competition Description Details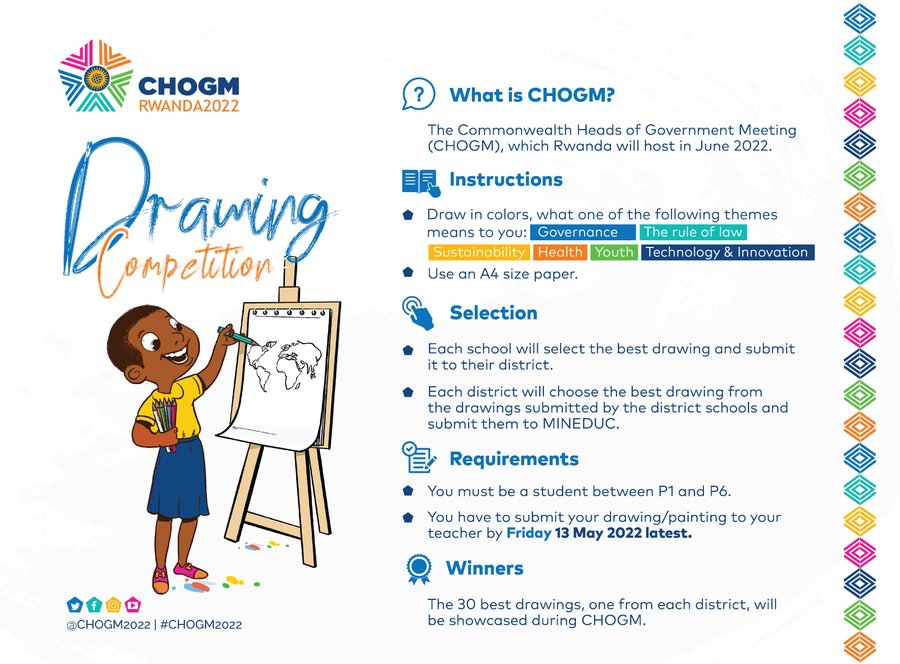 🌐 How to Apply
Student
( only from P1 up to P6)   

should Submit the Drawing/painting to his/her Teacher  by Friday13 May,2022 latest.

 

 

 
Accreditation for Media to attend and report upon CHOGM 2022 and its associated events, Application is now Open ! (Closing date of Registration: May 23rd, 2022)
---
🌀 WIDECareers Group Ltd  igufasha  gutambutsa Amatangazo ry'Akazi  ndetse n'ayandi yose ajyanye nabyo kuri murandasi muburyo bwiza , bugezweho kandi  bwihuse,  rikagera kuri benshi barikeneye  icyarimwe mu gihe gito, ndetse n'izindi servisi zigendanye nabyo ( Job  Promotion & Placement Services), saba  iyi service nonaha : 👉🏾 KANDA  HANO
---
🌀 WIDECareers Group Ltd  igufasha  gukora Job Application mu buryo bwihuse kandi bwizewe n'izindi n'ama zitandukanye z'uburyo washakamo Imirimo Akazi (Online Application Assistance & other Career Counseling Services ), saba ubufasha nonaha : 👉🏾 KANDA  HANO
---
🌀 Reba Imyanya y'Akazi  yose iri kw'Isoko ry'Umurimo mu Rwanda 👉🏾 KANDA  HANO
---
🌀 Reba Ibizamini  byose by'Akazi  biba byaragiye  bikorwa  kumyanya y'Akazi mu bigo bitandukanye unyuze hano : 👉🏾 KANDA  HANO
---
🌀 Injira muri Groupe ya WIDECareers ikugezaho Amakuru yizewe y'Imirimo itandukanye n'Akazi kari kw'Isoko Ry'Umurimo mu Rwanda , unyuze hano : 👉🏾 KANDA  HANO
8,850 All the time, 1 To day